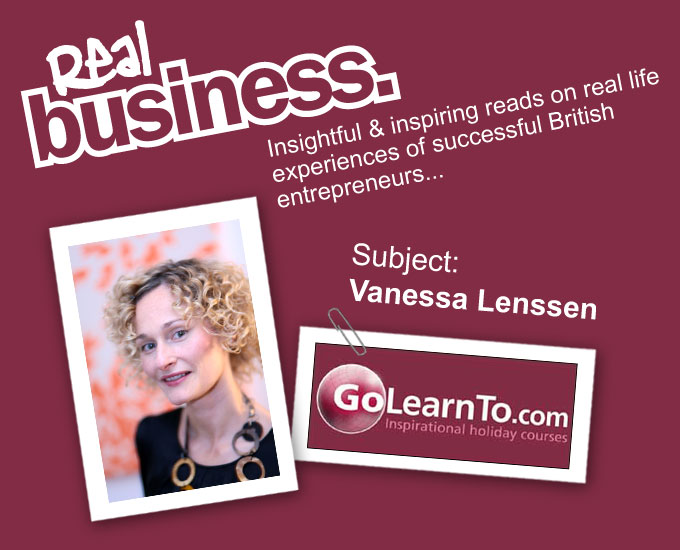 Welcome
Today we're delighted to be interviewing Vanessa Lenssen, the entrepreneur behind GoLearnTo.com, a travel company who specialise in providing unique learning holidays. Since forming GoLearnTo.com in 2006 Vanessa has been shortlisted for Red Magazine's Red Hot Woman Award in the online business category and also won the Shine Corporate Woman of the Year for 2008.
Tell us about GoLearnTo.com
We're entirely focused on learning holidays. The word 'learning' can sound quite a dry word in itself but our holidays are anything but that. We don't do activities, we don't do tours or contrived 'experiences', we offer holidays where you learn or develop a skill. Everything from cooking, surfing, photography, dancing, jewellery making, language courses, horseriding and painting right through to perfume making and Gladiator fighting. It's a broad and inspiring range.
We are the only specialist dedicated to learning holidays. There are agencies that specialise in just one activity such as cooking, dance, surfing, yoga or language learning but we are the only company with an exclusive range of holidays across a huge variety of activities. We have more holidays on offer than even the specialists and our range has something to fit all budgets.
We don't stray away from the concept. We don't do contrived holidays and we steer clear of the tourist trail. We're often asked why we don't sell things like walking or cycling holidays but those types of activities don't really fit with the 'learning' model. That's the niche that we're in and that's what we do. We're on a mission to challenge the nature of holidays and give people holidays that are for today's world; holidays that have you not only coming back with new skills but feeling refreshed, relaxed and excited about the future.
What's your background?
I left school when I was 16. I have slightly unconventional parents that don't believe in further education, they believe that work is where you learn. I had a plan to go to college and university but my parents said no and well, you don't have much choice when you're that age. So I left school and looked for a job. I didn't really know what I wanted to do, so I thought "I quite like travelling, I'll try and work in the travel industry".
I got lucky. I went to work for an amazing entrepreneur, Peter Davies, in a start-up travel company called Worldwide Travel. I was the fourth member of staff and by the time I left there were over 200. At a very young age he gave me a lot of responsibility, at 18 I was dealing with million pound negotiations. I learnt a lot from Peter and we are still in touch now, he mentors me with GoLearnTo.com from time to time.
Vanessa then went on to work in senior roles at Virgin, STA Travel, TUI and MyTravel taking her first MD role at MyTravel before the age of 30.
When I was at STA Travel, after an initial period of fast moving, exciting global change, things settled down and I found I was getting bored. My boss was very understanding and suggested I do an Executive MBA (Master of Business Administration) to stimulate my brain. I did an Executive MBA at London Business School and I went to school every other weekend for 20 months. I had my full-time job and studied for around 30 hours a week as well. It was an intense but amazing experience and it was whilst studying that I decided to set up GoLearnTo.com.
Where did you get the idea from?
I was on holiday in Tarifa kite surfing. I don't swim very well so I wanted to be very careful about the school I was going with, just to make sure they were safe. You can go to lots of dodgy places because it's cheap but I wanted it to be right for me because I knew I'd drown if it wasn't. We ended up driving up and down the beach looking for somewhere until we found a place that felt right.
I had tried to book it before we went but it was nigh on impossible. The websites were either all in Spanish or just unusable. You just couldn't work out what was good or not and it was hours of online research as well as a day of my holiday trying to find the right school wasted. I'd done this type of holiday before. I'd done skydiving, learnt Spanish, Flamenco dancing, sandboarding and even had a few golf lessons but every time, I'd always had to sort it out when I got there.
I'm not someone who can sit and relax on a sunbed. I'm like an annoying toddler on holiday always looking for the next thing to do. I like learning something new on holiday because it helps me switch-off and really get into 'holiday mode' by focusing on something else. I realised there's probably others out there who also struggle to switch-off on holiday and who would find this kind of holiday appealing and the idea was born from there.
How long did it take to move from the idea to a reality?
It took time. It was almost a year after forming the idea to launching the website. I was still doing the MBA and working full time so there was little time to do anything else. I used the MBA and all the great entrepreneurial resources and advice from the faculty at London Business School to develop the business plan.
I talked to quite a lot of people in the industry as well. People from inside and outside of the company I was working for. A lot of people are scared about talking about their idea, it's crazy really. I never had that protective feeling of "I can't tell you my idea". I hate it when an entrepreneur says "I'm going to start a business but I can't tell you about it". If you don't tell people then you don't know if it's good or not. You need to test your idea, refine it and listen to your potential customers. If you don't tell anyone about it then how are you going to do that?
I made quite a strong decision (which I forgot to tell my husband about!) that on the day I graduated I would also resign. Otherwise there's going to be that period where you start having doubts. I'm not one for procrastinating. I just did it. So many people just talk about an idea for years and never actually get on and do it.
How did you finance it?
I had some savings and I re-mortgaged the house. That's what focuses your mind. You've got to make it work because your house is on the line.
Tell us a bit about the start
We worked from home to start with. I found a web development company and web designer who we outsourced the work to. I also took on one person full time, who worked with me on the website development side throughout 2006 and 2007 before the launch. We worked a lot on the SEO side of things so when we did launch we would be in a good position.
Then I had somebody else on the road in Europe for six months, sourcing all the products, looking into all the different holidays. I joined her for the first few weeks and then came back and she carried on. It was amazing that we made contacts. We had a business card but we didn't have a website yet, it hadn't launched. These people have to believe you and want to work with you. But it was nice; you get to do lots of cooking courses and other good stuff.
What does the future hold for GoLearnTo.com?
It's all about growth. It's still a small niche but it's growing fast. The press helps. Learning holidays are featured in the nationals all the time. It's the cooler kind of holiday. We want to be at the forefront of that and we want to be the 'go to' place for a holiday that lasts a lifetime. With a learning holiday, you don't get the post-holiday blues, you have great holiday memories and a skill that doesn't fade with your tan.
We are already global with 50% of our guests coming from outside of the UK and we know already that there are huge market opportunities in Scandinavia, USA, Canada and Australasia. We're also seeing quite a bit of growth out of Asia as well. We want to grow in those markets as well as continue to grow and lead the UK market.
What's the best thing about being your own boss?
You can look forward and just get on and do things without any of the usual corporate guff that restrains bigger companies. And I love that we don't really do meetings. Instead, we talk all the time and come up with ideas, we make decisions and we run with them. Fast. There's none of that "it's not my department, you need to speak to so and so" or "you need to sign it off with them and then it needs to go through budgetary". That's draining.
And the worst bit?
You're always on. I don't have a business partner so it can be tough when you're the one who's ultimately making all the decisions. I was MD at my previous job and had a massive team of people at all levels to talk to and then I went from that to nothing. People generally don't admit this, but it's tough when you first start up as you go from having a lot of status in a big company and suddenly you're nobody sitting at home with just an idea. It can be isolating.
That's why you have the sleepless nights, you don't have anyone else to talk to or to share the worries with. If you start with a business partner, there can be problems if you fall out or you don't agree, but at least you've got someone else to talk to. I've never had that. But I guess that was my choice.
Do you think it's harder for women to get on in business?
Not really. I don't like reading about women moaning about not getting on in business because of the men in the room or not getting paid the same. If you are good enough, put your efforts into asking for what you want and getting it rather than moaning about it.
The thing I dislike more than anything, especially now I've got kids, is the term "mumpreneur". When you tell people you have your own business, most automatically label you, like you're doing some part time cutesy business from your kitchen table for a hobby. I think being labelled like that is an issue.
Finally, what advice would you give to someone who was thinking about starting their own business?
Two things. Firstly, tell as many people you can about your idea and listen objectively rather than emotionally about what they have to say. Then if you are still sure it's the right thing to do, stop procrastinating and start doing.
So many people don't listen, they get emotional and just cut critics off and end up losing loads of money. Tell lots of people about it. Ask outside of your friends and family because they're just going to be nice to you and say the right thing. Be objective. Adapt your idea to fit what your customers are going to want.
When I first presented the idea at London Business School professor John Bates said there are two businesses you should never do; travel and restaurants. Well, I have a travel business and we have also invested in a restaurant business in Ibiza which is doing really well. I like going back now and saying "you told me they were both crap and I've proved you wrong".
Thanks to Vanessa for taking the time to talk with us. If you would like more information about GoLearnTo.com or want some inspiration for your next holiday take a look at their site here.
This post was brought to you by Mathew Aitken at Companies Made Simple – The Simplest Company Formation Service
Keep up to date. Subscribe to our RSS