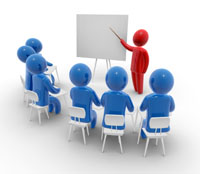 Last Updated: 10/09/2014
On Thursday we explained how our DIY Annual Return Service works. So just to be fair, today we're going to explain how our standard (we do it for you) Annual Return Service works:
• Once the service has been purchased our annual return team are notified, they will then look up your company's annual return due date. If the return is overdue or nearing the due date we will prepare the return as soon as possible – if it is in the future we will make a note of the date and prepare the return roughly 3 weeks before that date (if you wish to file an early annual return let us know).
• Once the return is prepared we will email you requesting that you login and review the return. If you are happy with the return, simply select "accept" and the return will be sent to Companies House. We will notify you via email once the return is accepted by Companies House. If changes have been made to the company and the return is incorrect, simply select "reject". You will then be given the option to email us with what changes need to be made. We will then make the required changes and email you again requesting you login and review the return once again.
Purchase our Annual Return Service here
This post was brought to you by Mathew Aitken at
Companies Made Simple – The Simplest Company Formation Service
Keep up to date. Subscribe to our RSS