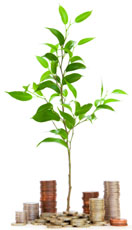 In today's economic climate, focus on the customer has never been more important. You have to keep your customers happy, keep them coming back for more and generate positive responses to your business and/or product. Here are a few customer focused and marketing tips to consider in order to make your business attractive to those you need to attract.
Reward Customer Loyalty
Loyalty schemes are a great way of saying 'thank you' to your customers. A simple '10% off your next purchase' is more than enough to have your customers come back for more. You can have a loyalty card where the customer collects a 'stamp' for every purchase made and on their 10th stamp they get a free item up to a certain value. Schemes like this appeal to both new and existing customers and can ensure that you experience repeat buys from your customers.
Case example: Nando's Loyalty card
Become accessible with social media
Social media has never been a more important business tool. Put this into perspective – 26 million people in the UK use Facebook and 200 million tweets are sent every day. Think of how many people you could reach if you use social media as well! It is free to set up a Facebook account and all you have to do is ask new and existing customers to check out your Facebook page and watch the number of 'Likes' grow! Be where your target market is and make it easier for you to contact them and for them to contact you.
Case example: search company names on Facebook and see what you find
Think outside of the box
Hit the streets with a limited edition set of samples that will make passers-by remember what they took away from your attempt to get their attention. Leave business cards in the tip tray when you eat – leaving your information anywhere that may be memorable is ultimately helpful. Hand out free, colourful stickers with the company name and logo on them. You may be surprised how many people will take a sticker and end up walking around with it potentially spreading your company name further than any ground you could cover. All these different ideas will depend on the nature of your business but be creative and see what happens!
Case example: Honest Tea guerrilla marketing campaign
Testimonials
The power of testimonials is such that it could persuade a customer into using your services over a competitor who has none. Don't be afraid to show your prospective customers that you do what you do very well – and that you have evidence that can back it up! Testimonials are one of the best ways to get your business generating the interest it needs and they cost nothing. Just a simple question asked to purchasing customers to provide feedback on your service is all that's needed. Post these comments onto your website or perhaps even a Facebook page or Blog and share your success with all your customers.
Case example: Companies Made Simple Testimonials
This post was brought to you by Alicia Sprott at
Companies Made Simple – The Simplest Company Formation Service
Keep up to date. Subscribe to our RSS