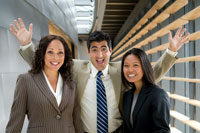 1. Don't just do it for the money. You really need to be passionate about whatever you do. Starting a business is rarely, if ever, an immediate route to riches.
2. Do something you know about. If you set up a limited company in something you know little or nothing about, you have made things much harder from the start.
3. Have a mentor. Having a mentor can be a huge support and can help you with those critical early decisions when setting up a limited company.
4. Funding. Make sure you have enough cash to get you started and to keep you going in those first few months when sales may be slow, but don't spend too much time trying to raise the capital. A great deal of time is wasted by new start ups trying to raise funds. It is critical that you put all your energies into your business and not into raising funds.
5. Cash management. Cash is king. Manage it well. Ensure you have appropriate forecasts and monitor against expectations.
6. Have a plan. A business plan is essential to any new limited company. Without a plan, you are very unlikely to succeed.
7. Build sales before anything else. Many people spend too much time getting things such as a nice design and the website sorted, instead of getting out there and closing a sale. Getting that first sale is crucial. It will give you confidence and spur you on.
8. Don't try to rush. It may well be that your offering isn't quite right. Don't rush things and try tweaking what you do and how you market it until you find something that works.
9. Keep things at a variable cost. In the early stages, particularly when you are a small business, you don't want to get locked into anything you can't get out of easily. Don't be afraid to use a probationary period for staff. Be wary of recruitment fees but also know when to pay a bit more for quality staff.
10. Don't give up too soon. Keep trying for as long as possible, but don't be afraid of making changes to your plan.
This post was brought to you by Claudia Graham at Companies Made Simple