When forming a limited company you need to choose how many shares to allocate to your shareholders. The number of shares that you allocate multiplied by the value of these shares makes up the company's share capital.
It's very easy to add new shares
If you wish to add new shares to the company once it has been formed, you'll need to complete and file the SH01 – Return of Allotment of Shares document. If your company is on our system (if it's not, the document needs to be completed and sent as per the instructions found on it), simply:
• Select Return of Allotment of Shares from your company admin page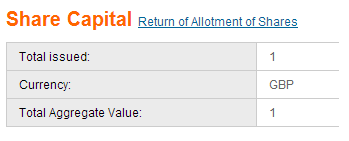 • Enter the number of new shares that you wish to add and select Submit

The request is then sent to Companies House who normally processes it within 3 working hours.
Important notice about adding new shares
Companies House are not made aware of any change in shareholding until an Annual Return has been filed. Therefore, if you have added new shares to a company, our system will not reflect the new shareholding situation until the Annual Return has been submitted and accepted. See here for more information about our Annual Return Services.
I hope you have found this post helpful. Please get in touch via the below comments section if you have any questions.
Brought to you by Mathew Aitken at …
For the start-up onwards. We provide services that make business simple: Company Formations, Virtual Offices, Company Credit Reports & more.

— MadeSimpleGroup (@MadeSimpleGroup) August 14, 2013
Keep up to date. Subscribe to our RSS.