Last Updated: 16/09/2014 
Once you have formed your limited company with us, the last thing we want is for you to miss your annual return and annual account due dates. That's why we've integrated our Companies House eReminders service into our company formation process, therefore allowing you to sign up for the free service at the earliest possible stage.
With eReminders you receive an email directly from Companies House whenever a due date for your limited company is approaching, making late filing a thing of the past.
To take advantage of eReminders simply leave the eReminders option set to "Yes" on the final summary page of the company formation process (once the company has been formed you will receive an email from Companies House requesting that you activate this service). If you want to turn the service off (although why would you want to?) simply select "change" as per the below picture.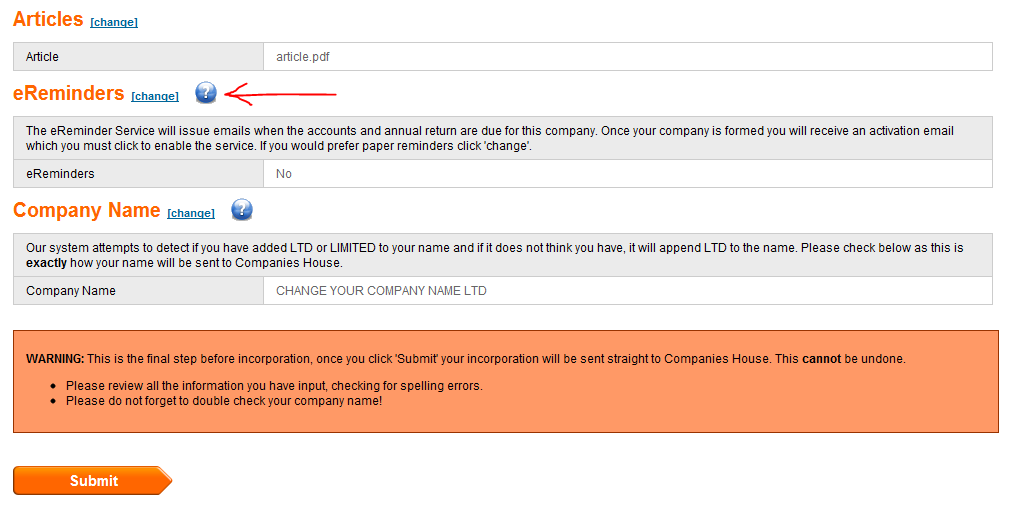 Already formed your company? Don't worry; click here for information on signing your company up for eReminders post company formation:
This post was brought to you by Mathew Aitken at
Companies Made Simple – The Simplest Company Formation Service
Keep up to date. Subscribe to our RSS