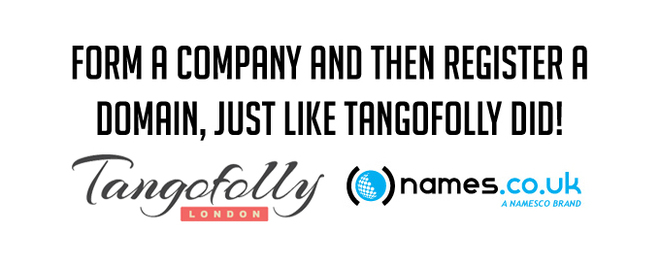 It's quite incredible that 1 in 4 businesses don't secure their domain name at the same time as registering their limited company. What if you form the company only to find the domain name is unavailable, or vice-versa? It doesn't bear thinking about!
Fortunately Rita Horne, director of Tangofolly, didn't make that mistake. Earlier in the year, when Rita decided to turn her passion for Argentine Tango into a business, she took advantage of our relationship with names.co.uk.
This meant that straight after forming the company Rita was able to register a free .co.uk domain name, a domain name that has resulted in an immediately successful website – having launched the site only two months ago, www.tangofolly.co.uk already has over 300 members!
Here's what Rita has to say, "I finally decided to register my 'big idea' in January. Registering my new company with Companies Made Simple was so quick and easy. I received confirmation that my company was registered within an hour of my application; it suddenly all seemed very real when I received that email!"
Once a company has been formed with us, we email our customers a code that can be easily redeemed at names.co.uk:
"As my company is an online community website, I needed to register a domain name quickly. Claiming my free domain name was easy. I received the voucher code in an email and within minutes www.tangofolly.co.uk was a registered domain name."
Find out more about Tangofolly now.
Inspired by Rita? Turn your big idea into a reality: form your limited company and then register your free domain. See here for more information about our partnership with names.co.uk.
Brought to you by…
For the start-up onwards. We provide services that make business simple: Company Formations, Virtual Offices, Company Credit Reports & more.

— MadeSimpleGroup (@MadeSimpleGroup) August 14, 2013
Keep up to date. Subscribe to our RSS.