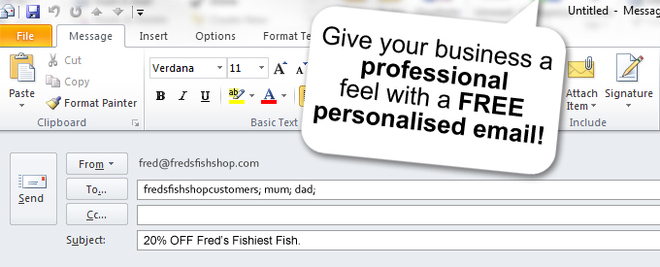 We've partnered up with names.co.uk to offer you a free domain name (or web address) when you register a limited company. This gives you your own website address i.e. www.yourbusiness.co.uk and you can also choose web hosting or a website building tool to enable you to build your website quickly and easily.
There is another added benefit to the names.co.uk offer that could greatly enhance your business, let's explore…
With your free domain name, you also get a free email account, which gives you a personalised email address such as [email protected]. The importance of this is often underestimated but it ensures that you make the right impression from the start and gives your business a professional feel. Just consider the difference of seeing a professional email address compared to say a Hotmail or Google Mail address! This is the address that will be on all of your marketing materials and depending on your profession this could be on your work vehicle, so it's a huge consideration!
Nowadays it is essential that you are able to access your emails on the go. With the email account you get from names.co.uk, you can access your emails from your computer, laptop, mobile phone, tablet or just about anywhere in the world via an Internet connection; another fantastic benefit. No matter where you are, you will have full access to your emails – in bed, on the train and even on holiday.
Worried about spammers and scammers? Be safe in the knowledge that your email account comes with Advanced Anti-Virus and Spam Protection helping to guard your inbox from spam and your computer from virus attacks. You can modify the level of protection to what is most appropriate for you.
So don't forget, if you have already claimed your free domain, go and get your free email account too. If you have opted for the web hosting or website builder package, your email will already be active and ready to use.
As well as the free email product, names.co.uk offers further packages for you to upgrade to in the future if you need more storage space, email addresses, bandwidth etc., giving you options that will grow with your business.
Give your business the professional edge today and set up your free email address.
Find out more about personalised emails now.
Brought to you by…
For the start-up onwards. We provide services that make business simple: Company Formations, Virtual Offices, Company Credit Reports & more.

— MadeSimpleGroup (@MadeSimpleGroup) August 14, 2013
Keep up to date. Subscribe to our RSS.