• Appoint, resign or edit directors
• Update the registered office address
• Change the accounting reference date
• Add shares to the company (known as a 'return of allotment of shares')
• Keep track of annual return and annual account due dates
• File annual returns (for a small fee)
Companies formed by us are automatically uploaded onto the portal, but don't worry if your company was formed elsewhere; you can still import your company. To do this:
• Sign up as a New Customer (there's no payment required)
• Select Import Company
• Enter your company number and authentication code – select Import Company: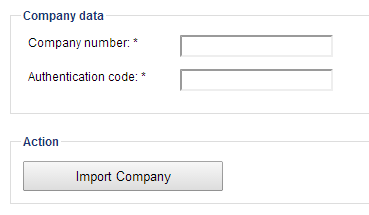 And there you go, the company will then be imported onto our system.
What's the catch?
There really isn't one. Whilst it would be great if you decided to use one of our services in the future, you're not obliged to.
If you have any questions, feel free to get in touch via the below comments function.
Brought to you by Mathew Aitken at …
For the start-up onwards. We provide services that make business simple: Company Formations, Virtual Offices, Company Credit Reports & more.

— MadeSimpleGroup (@MadeSimpleGroup) August 14, 2013
Keep up to date. Subscribe to our RSS.