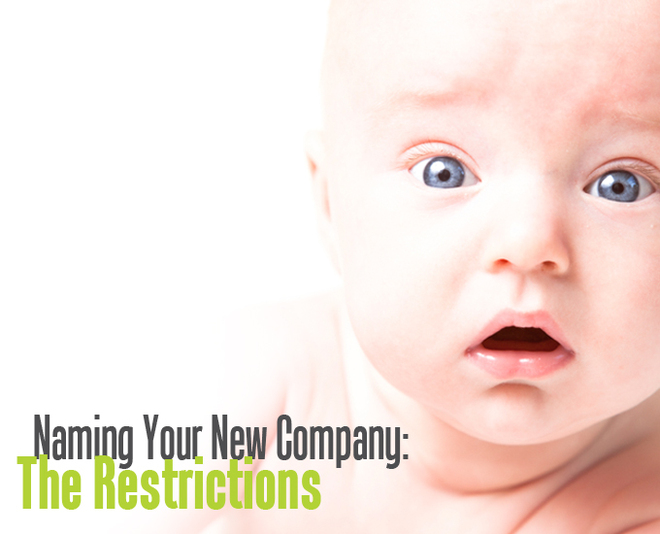 Names are going to be a big topic this month with the arrival of the Royal baby, so I thought I'd jump on the bandwagon and write a post about the restrictions that must be considered when naming a limited company, a baby of sorts!
This post is about the rules of naming a limited company, if you would like a more theory-based look at what not to call your company read "Don't call it that: 7 things to consider when naming your company".
The following restrictions are set in place by Companies House when naming a private company limited by shares:
The company name must end with Limited or Ltd
Unless the company is based in Wales in which case it can end with Cyfyngedig or Cyf. There are some scenarios when you can leave the suffix off the name, these are mostly to do with the treatment of shares within the company. Read the clauses here.
The company name must be unique
Duplicate names are not allowed on the register. This particular restriction becomes confusing when you look at the 'same as' rule. The 'same as' rule implies to a list of words and symbols that Companies House say do not differentiate the company from an existing company.
Companies House explain this the following way:
"'Hands Limited' is the 'same as':
Hand-S Limited
H and S Public Limited Company
Hands: Ltd
'Catering Limited' is the 'same as'
Catering UK Limited
Catering.co.uk PLC
Catering International Ltd
Catering Company Services Public Limited Company"
The above can be disregarded if the new company is to be part of the same group as the existing company or if the existing company has given permission for the new company to be formed.
The company name must not "suggest a connection with Her Majesty's Government, a devolved government or administration or a specified public authority"
For example; King's Bakery Ltd.
Names such as this are only allowed if you have a legitimate reason for using the name in which case you can seek approval through the relevant bodies. See here for a list of these bodies and their contact details.
The company name must not include "sensitive words and expressions" unless certain criteria is met
There are certain words and expressions that Companies House will not allow unless criteria is met. Examples include:
Association
Charity
England
Foundation
Group
Holding
International
King
National
See here for a list of the sensitive words / expressions and the criteria that must be met.
The company name must not be offensive or include words that would constitute an offence
Self explanatory!
I hope you found this post helpful. If you have any questions simply leave a comment below.
This post was brought to you by Mathew Aitken at Companies Made Simple – The Simplest Company Formation Service
Keep up to date. Subscribe to our RSS