The Microsoft Small Business Centre has found that many older people are seeking a new life in business after retiring from the workplace.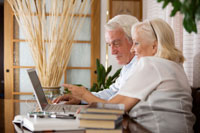 According to Tony Clack, managing director at Laterlife, the world of entrepreneurship is increasingly appealing to over-65s, giving them a new challenge in their later years. He observed that older people often take a hobby or something they are interested in and develop it into a small enterprise.
Dave Sinclair, Laterlife's training director, agreed with his colleague over the emergence of this trend, adding that older people are "particularly buying and selling things – especially with eBay, these days".
Research conducted by Friends Provident in October 2010 indicated that 51% of Britons wish to continue working after they reach the retirement age as a way of staying active.
Interestingly, 77% of retired Britons wish to remain in their home and do not want to fund their retirement through equity release or downsizing their property, which provides another explanation for the appeal in starting a new company.
This post was brought to you by Claudia Graham at Companies Made Simple.
Keep up to date. Subscribe to our RSS