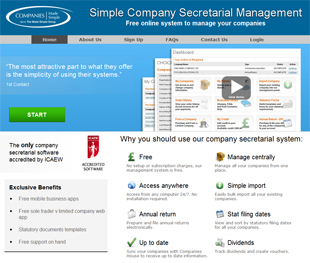 Our Company Secretarial System is now accredited by ICAEW, The Institute of Chartered Accountants. Not only is the accreditation a fantastic coup in itself, what makes it even more special is the fact that we are the only Secretarial System provider with the accreditation.
Signing up for our Secretarial System allows you to manage all your Limited Companies, formed with us or not, from one simple to use hub. It is free and there's no download required. Using our system you can:
• Appoint/resign company Directors
• Appoint/resign Secretaries
• Update Director/Secretary information
• Update the Registered Office
• Form New Limited Companies
• File Annual Returns (for a small fee)
• Monitor other Limited Companies (not yours)
• Set Annual Return and Annual Account Reminders
• Add Dividends
For more information or to sign up for our Secretarial System click here.
This post was brought to you by Mathew Aitken at
Companies Made Simple
Last Updated: 05/09/2014
Keep up to date. Subscribe to our RSS