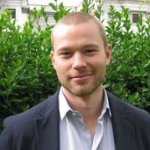 Welcome to part two of our interview with Alex Harrington-Griffin, our first subject in the new "Real Business" case study series. To read part one, click here.
What were the positives and negatives of working for yourself?
Positives. There's a weird adrenaline when you run your own business. It's a constant amount of energy. It's incredible how long you can work and how long you can think about it. That's an awesome feeling and I love it. I've had about 15 ideas in the past seven or eight years but when I had the feeling with BusinessCrayon it was overwhelming, I knew this was the one that I wanted to go with.
It's a real insight into yourself, how you can handle different scenarios. I didn't know this beforehand but I learnt that I'm a great project manager. I learnt that I can deal with a lot of things at once. You find things out about yourself that you never knew before.
The negatives. I didn't take enough time away from the business. You get a bit obsessed. It's your baby, you want it to do well and have the best chance in the world. I didn't see my friends as much as I should have done and now in hindsight I should have just taken a day away from the business. I should have said every Saturday, "right, nothing to do with business, give your mind a bit of a break". I think this is why when it came to sell it, it wasn't quite relief, but I realised how exhausted I was.
One piece of advice for budding entrepreneurs
Test. There's not an industry I can think of where you can't test a concept to some extent. Even for your own sake to see if you like doing it. Are you passionate and can you do it? Also to find out if there's a market for it. Do people want to buy it? Try and do as much testing of the concept for both your own sake and for your potential customers.
What lessons did you learn?
To be conservative about numbers. Be ambitious but don't inflate the numbers too high because it's depressing if you don't get there.
To focus. A lot of ideas will come into your head but try to remember what you're doing now. Be aware of opportunity but don't go crazy and try to do everything that you come across.
You've got to say "no" to people sometimes. You've got to work out if it detracts from what you're trying to achieve. As an entrepreneur your time is your money.
Did it go to plan?
My plan was to grow something that was UK wide and then explore international opportunities, but plans change. It was circumstance that made me sell it, I thought the market was going to go a certain way and I felt that looking at other opportunities I had available, selling was the better choice. It was a successful exit from an amazing experience and I've got some great "take aways" that I can take to the next opportunity.
Following BusinessCrayon Alex became Strategic Partnerships Manager at online print shop, printed.com.
How did you get involved with printed.com?
Printed.com's recruitment team had come across some of the things I had done at BusinessCrayon and suggested I meet their founder. I was offered a position and loved where the company was heading, so joined them in February after a brief break.
Tell us a little bit about the company
With the UK's first print reward programme, printed.com is perfectly suited to small and medium-sized businesses looking to order high quality print at the best possible prices. We offer over 35 print products, including business cards, leaflets, wedding and business stationery, bound documents, stickers and much more, all of which are ordered through the easy to use online shop.
What sets printed.com apart from your competition?
We offer the UK's first print reward programme. We're 99% green. There's a "design central gallery" on our Facebook page for design buyers to meet designers for free. And there's the printed.com "customer charter"; five promises we make to our customers.
A big thank you to Alex for taking the time to chat with us. If you would like any further information about printed.com just click the above links.
Read Alex's blog here: Partnerships Marketing
This post was brought to you by Mathew Aitken at Companies Made Simple – The Simplest Company Formation Service
Keep up to date. Subscribe to our RSS