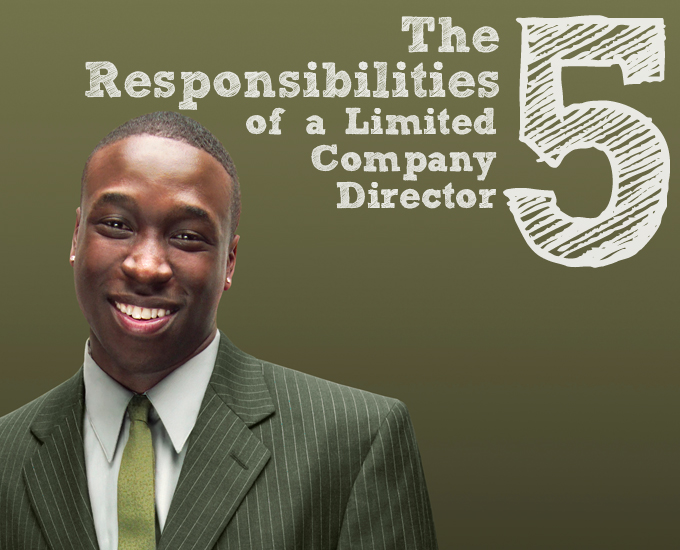 Becoming a limited company director is not something you should decide upon or agree to on the spur of the moment. Whilst it's great to be able to say "I'm a company director" you should realise that the job comes with some very real responsibilities.
So, for your viewing pleasure, our 5 Responsibilities of a Limited Company Director:
1. File Annual Returns on time
It is the job of the director to ensure that the company files annual returns (a general snapshot of company information) with Companies House once a year. In fact it is a criminal offence not to do so.
2. File Annual Accounts on time
Very much different from annual returns but just as important are the annual accounts (a report that details financial background). Once again it falls to the director to make sure these are filed once a year with Companies House. Filing annual accounts after their due date will result in a hefty penalty.
3. Keep Companies House updated
As well as filing annual accounts and annual returns with Companies House, a director must also keep them updated with any officer or address changes that occur throughout the company's lifetime. On top of this a director must also ensure the company paperwork, such as meeting minutes, is kept in order.
4. Keep HMRC updated
Exactly what a company files with HMRC depends on its trading status; trading or dormant. However, it is up to the director to keep HMRC updated on this status (via mail will normally suffice). HMRC can then notify you of what is required and when (and you guessed it… it's the responsibility of the director to make sure this happens too). If you have any questions regarding HMRC obligations we suggest contacting an accountant or your local tax office.
5. Work for the good of the company
It is the duty of the director to do what is best for the company and not themselves. If a director is unable to achieve this (or any of the above responsibilities) they should hand the job over to someone who can.
Still ready to become a director? If the answer is yes, let's get started!
What do you think makes a good director? Let us know below.
This post was brought to you by Mathew Aitken at Companies Made Simple – The Simplest Company Formation Service
Keep up to date. Subscribe to our RSS