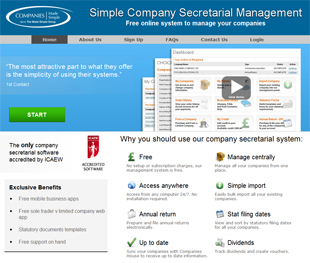 Our Company Secretarial System, the only secretarial system accredited by ICAEW (The Institute of Chartered Accountants), is aimed at anyone who administers numerous UK Limited Companies.
A common issue for such people is keeping track of due dates for both the annual return and annual accounts. With the Secretarial System this in no longer an issue. Simply:
1. Login
2. Select "My Companies"
3. Select either Accounts or Return depending on what you want to check
4. Choose the dates you wish to check within
5. Select "Filter" – you can then view the due dates that fall within the set parameters and the companies the dates are for. You can also "Export to CSV" to save a document with the information.
Alternatively you can sort through all your companies using the arrows next to the relevant columns.
For more information or to sign up for the Secretarial System, click here.
This post was brought to you by Mathew Aitken at Companies Made Simple – The Simplest Company Formation Service
Keep up to date. Subscribe to our RSS