Last Updated: 20/08/2014
The Certificate of Incorporation is the main document which states your limited company is in existence. It includes your company name and number. In the UK, a certificate of incorporation is usually a simple certificate issued by the relevant government registry as confirmation of the due incorporation and valid existence of the company.
The certificate is often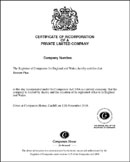 required by various banks when opening a business bank account.
This post was brought to you by Claudia Graham at Companies Made Simple
Keep up to date. Subscribe to our RSS