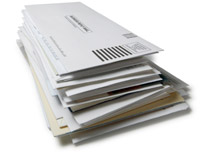 Last Updated: 20/08/2014
If you've just set up a limited company it's useful to know exactly what mail you can expect to receive. So here you go. We're going to split this into 2 categories, Official and Public.
Official
If you formed your company through us on any package Printed upwards, the first item you can expect to receive will be your printed certificate of incorporation. We will then send other items specific to your package (company stamp etc). Next up you can expect to receive the CT41G letter from HMRC. Don't be surprised if you do not receive anything from Companies House, their first letter is normally the annual return reminder sent roughly 10 months into incorporation.
Public
You can also expect to receive letters based on the fact that, as a limited company, you are on the public register. These will consist of various items most of which can be considered "sales".
This post was brought to you by Mathew Aitken at Companies Made Simple
Keep up to date. Subscribe to our RSS