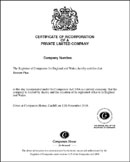 Last Updated: 16/09/2014
At £16.99 it's easy to see why our Basic Register a Company Package is so popular when it comes to our Company Formation services. It's a fantastic product that provides the essential elements needed for your Limited Company. So if that product is so great why do we offer, and recommend, our Printed Register a Company service?
Well this is because, at just £29.99, the Printed Package includes:
•    A printed and electronic copy of the Certificate of Incorporation
•    A printed and electronic copy of the Share Certificates
If you intend to open a bank account for your Limited Company both of these documents are normally required. Of course if you have already purchased the Basic Package you can still pick the Certificate of Incorporation and Share Certificate up, but if you are still at the formation stage why not save yourself some money in the long run and purchase the Printed Package?
This post was brought to you by Mathew Aitken at Companies Made Simple