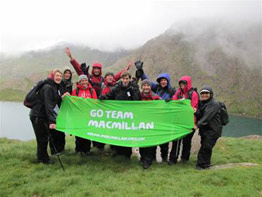 If there is one thing we admire at the Made Simple Group, it is people who are not afraid to 'have a go'. That is why we are supporting Humphrey Gervais in his bid to climb Africa's highest mountain and raise £6,000 for charity. Humphrey won't mind us saying that he is a lot closer to getting his OAP bus pass than his student rail card and in fitness terms more Queen Victoria than Victoria Pendleton. But when he saw a small advert in the Metro asking volunteers to climb Mount Kilimanjaro to raise money for Macmillan Cancer Support, he didn't hesitate. 'It was literally one of those moments when you make an instant decision,' says Humphrey. 'Even though I am not a climber – I have never attempted anything more ambitious than a flight of stairs – I just knew that I had to sign up and do this.'
Humphrey, who is an international distributor for Forever Living Products, committed to the climb before he had time to think about it in the cold light of day and change his mind. He then realised how many good reasons he had. He lost his father to cancer and in 2003 helped his wife through bowel cancer and the debilitating effects of chemotherapy. 'This was not fun for either of us I can tell you. Every day since then has been precious,' he says.
Another reason is his own well-being: 'After years of poor food, bad nutritional choices, and a rather casual approach to exercise, my body could definitely do with some toning up, to put it mildly.'
The main reason though is that Humphrey strongly believes in people supporting charities to the best of their ability. Says Humphrey: 'Macmillan is one charity that deserves everyone's support. Cancer is something that affects us all either as a sufferer or as a carer and my family is certainly no different.'
'Hear, hear' to that and good luck to Humphrey from all of us at the Made Simple Group. If you would like to support Humphrey, please go to his Just Giving page.
UPDATE: Humphrey almost at Mt Kilimanjaro summit
This post was brought to you by Companies Made Simple – The Simplest Company Formation Service
Keep up to date. Subscribe to our RSS