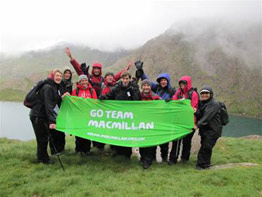 Last month we told you about our friend Humphrey Gervais's attempt to raise £6,000 for Macmillan Cancer by climbing Mount Kilimanjaro.
The latest news winging its way from Africa's highest mountain is that Humphrey is still going strong, as you can see from his bulletins:
"0106 hrs Wed In bed. Freezing outside but silk liner doing great job. In less than 24 hrs we will start our attempt on the summit!
1405 hrs Wed. We have reached Barufu Camp 4550m. Had lunch and dozing in tent. Will get another meal at 5pm and then sleep 'till 10pm. Dress for -20 (it must be +20 right now) stuff ourselves full of porridge and start up the very steep Mweka Route to the Summit (Uhuru). It will take us 10hrs through the night to reach the crater rim. My resting heart is around 140 bpm and EVERYTHING takes an effort. So far no Altitude sickness. The doc is treating around half the group so far. Wish me luck!!"
It sounds like nothing is going to stop Humphrey completing the physical side of his challenge, but reaching his £6,000 target is proving a tad more difficult. So far he has donations of £4,611.11, which is a fantastic effort. But every penny counts, so if you are able to find some coins behind your sofa or in your piggy bank please go to www.justgiving.com/humphreygervais to help Humphrey, and more importantly Macmillan Cancer, reach the magic £6,000 figure.
We'll update the blog as soon as we hear from Humphrey again – hopefully with news that he's bagged the summit and is strolling merrily back down the hill.
UPDATE: He's made it! Humphrey's completes Mt Kilimanjaro climb!
This post was brought to you by Companies Made Simple – The Simplest Company Formation Service
Keep up to date. Subscribe to our RSS