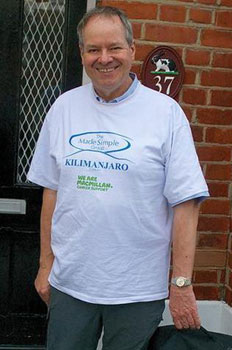 He made it! Last week we told you that Humphrey Gervais was bracing himself for the steep climb up the Mweka Route towards Mt Kilimajaro's 5,896 metre (19,162 ft) summit. We are delighted to tell you that despite the cold and thin air, Humphrey reached the summit early yesterday and is safely back at base camp. Here is his breathless bulletin:
'Saw the sun coming up over Kilimanjaro after trekking all night in temps well below zero and a freezing rain! Summited about 10am. Just back to base camp. Feeling like sleeping for a week! H'
Humphrey has been spurred on by the generous donations that have so far raised £4,611.11 towards his goal of £6,000 for Macmillan Cancer. You can still donate online here.
Well done Humphrey, from everyone at the Made Simple Group.
This post was brought to you by Companies Made Simple – The Simplest Company Formation Service

Keep up to date. Subscribe to our RSS