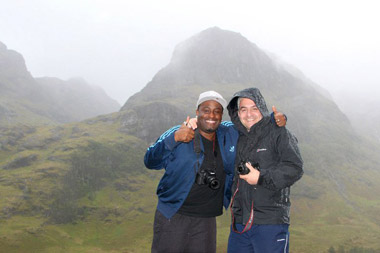 On Friday the 27th of May, four members of The Made Simple Group set off from London to take part in the BNI Three Peaks Challenge in aid of the baby charity Bliss.
The challenge would see members of the team conquer Ben Nevis, Scafell Pike and Snowden – taking them to Scotland, back to England and then onto Wales.
As well as battling distance and the peaks, the team also had to contend with apocalyptic weather conditions that saw snow, rain, sleet and hundred-mile-an hour winds all occur within a matter of hours. A walk in the park this was not.
Over the next week, our Three Peaks team will share their thoughts on the challenge. First up is our driver, Richard:
"I cannot believe it's over!"
These were the first words from myself and my team once breakfast had been devoured, the minibus packed and we were winding our merry way back to London.
What had preceded were some of the best days of our lives and although we were physically and mentally exhausted, this could never detract from how sad we were that it was all over.
Our journey had begun in the early hours of a wet Friday morning at the end of May and was to take us fifteen hundred miles around some of the most exhilarating scenery our fair isle has to offer.
We had all signed up for the Three Peaks challenge (to climb the three highest peaks in Scotland, England and Wales in twenty four hours), a long time ago on Valentines Day and were now heading up to Fort William on a 14 hour road trip that would take us to the start of our challenge.
That evening was a pleasant affair of alcohol, Indian cuisine and some dancing followed by a five hour sleep, a fine Scottish breakfast and some shopping in the rain on Saturday morning.
The challenge proper began at 3.15pm in Glen Nevis Visitor Centre car park as my three intrepid colleagues and four new found friends from our local BNI, attempted to summit Ben Nevis. In the meantime I tidied the minibus, filled her up with diesel, took some photo's (in between rain and hail showers) and then tried to get some sleep before they returned some seven and a half hours later.
I managed two hours of lying on my front listening to all of the comings and goings before I gave it up as a bad job, read the paper and prepped dinner for the more energetic of us.
Dinner consumed by the sodden masses and a quick tidy to boot, we were then back on the road to Scafell Pike at 11.30pm – in the pitch black and driving rain!
What should have been a five hour drive turned into a seven hour one as a combination of scary road signs, dubious Sat Nav systems and a tired driver took us over Wrynose Pass (second highest road system in the UK) and had at least one of us fearing for our lives.
Despite this the team made it for a 7.15am start for Scafell Pike with warnings from others that the summit was too dangerous to attempt.
Whilst our intrepid explorers were off I engaged myself in the usual activities of tidying, laying flat but conscious and prepping food and drink. Upon their return we were all in dire need of warm, dry clothes and hot food.
We then made the five and a half hour dash to Snowdon in slightly better weather and full of va-va voom!
Snowdon was a breeze for the climbers after the horrendous conditions they faced on Ben Nevis and Scafell, so there was little surprise when they returned jubilant just after 10.30pm on the Sunday evening, all more than ready for a pint and some of that famous Welsh Cuisine (curry).
What an experience! We all got so much out of the whole trip that we are talking of organising an annual walking / climbing charity event so we can do it all over again.
A huge thank you to all our customers who donated 20p to our Three Peaks Team (all money raised will be donated to Bliss) when forming their Limited Company, you raised £902.80! We shall match this figure, doubling that total.
So including the donations raised through our Just Giving page, again a huge thank you to everyone who donated, the total raised so far is £2770.60! If you haven't donated yet, don't worry, it's not too late, simply visit our
Just Giving Page.

This post was brought to you by Mathew Aitken at
Companies Made Simple – The Simplest Company Formation Service
Keep up to date. Subscribe to our RSS