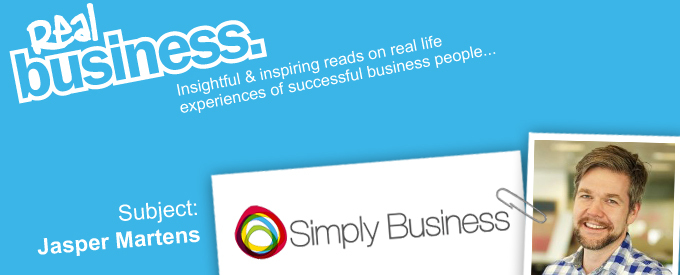 Welcome to our latest Real Business Case Study. Today's edition has a marketing spin with us chatting to Jasper Martens – Head of marketing and communications at Simply Business. Simply Business is the UK's biggest insurance broker, insuring over 250,000 businesses, a large portion of which are small businesses or start-ups.
Can you tell us a bit about what you do at Simply Business?
I'm responsible for all the marketing and communication efforts. I'm focused on building traffic towards our website, and building brand awareness and brand advocates. This ranges from SEO, social media, affiliate marketing, inbound marketing, public relations, online PR, offline PR; the whole range.
Do you enjoy it?
I do. It's something that has changed so much in the last 2 years. When I started working at Simply Business my background was in search marketing and social. Just understanding how all these marketing tactics actually fit together, how you can utilise display marketing to enhance a social campaign and the other way round. If you do these things right and integrate them properly, you can actually amplify all the channels. I really do love it.
Tell us a bit more about your background.
I have a degree in public relations and communications from the University of Amsterdam; I'm from the Netherlands originally. When I graduated, there were no jobs so I did some temporary work. I then worked for a company that produced promotional products and then sold them online, it had nothing to do with my PR degree but it grabbed my attention; "how can I display and sell 10,000 t-shirts in a way that makes people actually want to buy online, rather than the traditional way?" So we wanted to disrupt the way people buy their promotional products.
After that I got the opportunity to move to the United Kingdom and work with Simply Business in a completely different sector, insurance, but with the same message; disrupting the traditional. It's still about getting enough trust and confidence from customers that they'll buy a product directly from you online.
What's Simply Business's marketing strategy?
We split it. We have an acquisition related marketing strategy and brand marketing strategy. The majority of this is online, lots of B2C, lots of partnership and affiliate marketing. But direct traffic and brand traffic is becoming more and more important. Customers need to understand who you are. We've been pretty good in attracting customers online through product related search. But how do we take care of our existing customers, turning them into brand advocates? And how do we communicate our brand values to small businesses so that they are more likely to buy from us and stay for with us for longer? That's the challenge ahead.
How important do you think social media is?
I think it's really important but it's very difficult to measure how important as it's difficult to measure the return on investment. We know that roughly 7% to 10% of our customers had a social engagement with us, pre or post sale and that's massive. Being able to influence 10% of our 250,000 customers via social channels is huge. When I saw these figures, that was all the proof I needed.
How do you keep your tone consistent throughout the channels?
The only way to be consistent is if you're living and breathing the brand. You need to know exactly what the brand stands for. For example, I know our brand attributes and so does the team. Invest in a good team and rely on them. At Simply Business our content and communications manager, editor, copywriter and designers are all focussed on keeping a consistent tone of voice.
Being consistent is so important on your social channels these days. Don't post stuff like cat images on Google + because you happen to think it's a really nice image. Focus on "this is our brand and these are our values". How you translate that per platform can be different.
How important is content to Simply Business and how would you describe your content?
For us content, and especially user generated content, is what we do. I'm not going to tell the world how great we are because people don't trust insurance companies, they won't believe us. It's just like being a bank. Our customers need to tell the world how great we are. We want to provide a platform where our customers can talk about their business, and give examples to other customers about how they can run their business.
That's the keystone of our content marketing strategy. The other big thing for us is guides and tips; advising people how they can run their business.
All these efforts create content that people want to share and use. It's shaping our brand. There's nothing better. You can advertise and say how great you are but it's better if you can showcase your customers instead.
For example, we ask all our customers to review us when they buy or renew their insurance. We share all that feedback on our website; we even show the negative feedback. If it was only positive, people wouldn't believe us. Everybody makes mistakes, it's the way you respond that's important. We respond to any negative tweet or review in 30 minutes; people can see how we respond and I think that's important.
What social strategy do you recommend for smaller companies where perhaps there's only one person involved?
Don't try to do everything at the same time. In our company, the team who are looking after social and content is a team of ten. You can't do it on your own. Try to be helpful on a couple of platforms where your customers are, so when they have questions, you can answer them.
Encourage people to review you online as that's really powerful. Start looking at how you can trigger people to leave reviews on platforms such as Trustpilot, Feefo and Review Centre. Show how your customers rate you.
You need to create content that's useful for customers and potential customers. For example, if you run a flower shop and you specialise in weddings, create an article about "trends this autumn" or "this is how your flowers should look" Share that with your customers and ask them to share it.
What I wouldn't do is run a Facebook campaign, give stuff away or do "Hashtag Sundays" People don't do that with a small business. Stick to your product and give excellent customer service.
Finally, what marketing campaigns have inspired you?
A campaign that's very close to my heart, I wasn't involved though, was by a company called Ditzo, a Dutch insurance company. They developed a couple of really nice polls and asked customers what they hated about insurance and which insurance company they hated the most. They turned this into some really strong TV commercials and YouTube trueview ads. The social engagement was extraordinary. I loved that.
A campaign that should inspire smaller businesses is the Dollar Shave Club video. That was hilarious. What a way to grow a business and it probably only cost a couple of thousands of dollars.
A huge thank you to Jasper for taking the time to chat with us.
If you would like more information about Simply Business and the services that they offer, take a look here: Simply Business.
Brought to you by Mathew Aitken at …
For the start-up onwards. We provide services that make business simple: Company Formations, Virtual Offices, Company Credit Reports & more.

— MadeSimpleGroup (@MadeSimpleGroup) August 14, 2013
Keep up to date. Subscribe to our RSS.