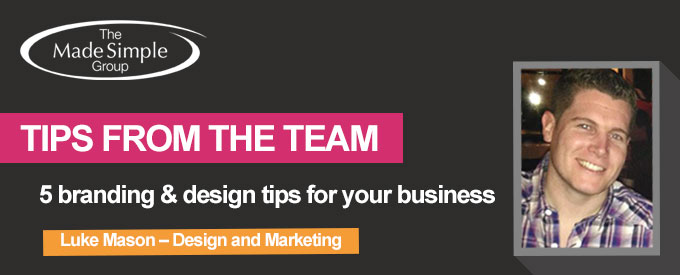 I'll bet that you were physically attracted to your partner before you fell for the 'real them'. Well your potential customers are the same. If they see something that doesn't look like it has had much time or effort spent on it, why should they choose to use it? As far as they know, that's how the business is run – lazily.
Sure you might have the best products and services around, but if you don't give a good first impression, potential customers are going to go elsewhere. It's as simple as that.
The visual appearance of your company (whether it is a logo, website, email, marketing material – any way you present yourself) is extremely important. Here are a few tips to help you make those first impressions count.
Keep it simple
You want a brand that has a lasting effect. Keeping it simple and clutter free will help people to recognise it easily and remember it in the future.
Choose the right colours
Colours influence people; different colours stimulate different emotions and reactions. Here is a great example of how some of the world's biggest brands use colour to convey their values to their customers.
Consider a tag line
"Just do it"; you know what brand I'm talking about already don't you? Exactly! This highlights how powerful a good tag line can be. If you decide to go with a tag line, keep it short, simple and ensure that it conveys your brand's message. It should create an emotional response between your brand and the client.
Make it useable
Have a think about the many ways your brand will be used. It needs to be as recognisable on a pen as it is on a billboard.
Don't do it on the cheap
Everyone thinks they are a designer, and yes a lot of people are very good at using Microsoft Paint. However, I believe spending the extra cash to have a professional design your brand is the smart thing to do. Professional designers have studied the industry, have qualifications and take huge amounts of pride in their work. After all, if they produce great work, they get more work.
That's all from me – now I want to know what you think.
Which brands do you admire on a purely aesthetic level (me? I'm a big fan of Red Bull). Get in touch via the comments function below with your favourite brands.
Brought to you by Luke Mason at …
For the start-up onwards. We provide services that make business simple: Company Formations, Virtual Offices, Company Credit Reports & more.

— MadeSimpleGroup (@MadeSimpleGroup) August 14, 2013
Keep up to date. Subscribe to our RSS.