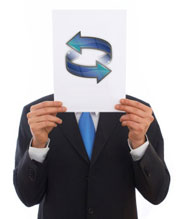 Last Updated: 19/08/2014
Changing your company name has moved into the 21st Century! Whilst the NM01 (and don't forget the name change resolution!) is still a perfectly valid way to alter your Limited Company's moniker it can now also be carried out online.
The two main advantages of this are:
1. Speed! The name change will take roughly 3 working hours to be accepted. If you're a in a super rush there is also a guaranteed same-day option.
2. Simplicity! Forget about all those paper forms, all we need is your proposed new name.
Please note new names that include sensitive words will still have to file paper documents.
This post was brought to you by Mathew Aitken at Companies Made Simple